School Links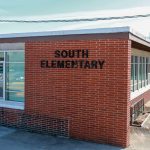 201 SE 6th Street, Leon, Iowa 50144

PHONE (641) 446-6521

FAX (641) 446-3856

School begins at 8:10. School dismisses at 3:05 (Students walking or picked up will be dismissed after buses leave.)
Breakfast: 7:45-8:05. Lunch times: 11:00-11:25 kindergarten; 11:20-11:45 1st grade; 11:45-12:10 2nd grade; 12:00-12:30 preschool
Important Resources for Students & Families
Welcome to South Elementary
Welcome to the South Elementary website. Our page gives you a glimpse of daily life at South Elementary. Look around-you'll see that our teachers, administrators, and staff are committed to providing a safe and nurturing learning environment for our students in Preschool through second grade by providing the best learning opportunities for students. We believe in linking learning to life by empowering every student every day to be respectful, excellent, and dedicated.  We believe our students start with the strong foundation necessary to be successful as lifelong learners.Click on the link above and on the tabs at the top of this page and you'll get the chance to briefly meet our dedicated teachers and you'll find a school calendar and weekly newsletters to keep you on top of all that is going on at South Elementary, home of the Young Cardinals! We look forward to getting to know you and to learning how we can serve you and your family. If you have any questions or are new to the area and would like to tour the school, please give us a call at 641-446-6521.
Preschool Information
Little Cards Preschool is a collaborative program developed by Central Decatur CSD and SCICAP Head Start. The Little Cards Preschool serves three and four year old children residing in the Central Decatur area. The program is funded with State Voluntary, Head Start, and Kids First Communities funding, which allows all children to attend for free. Registration occurs each spring, and as needed throughout the school for families moving into the area. Certified teachers with endorsements and experience in early childhood education ensure that our youngest learners begin Kindergarten ready to learn and grow.