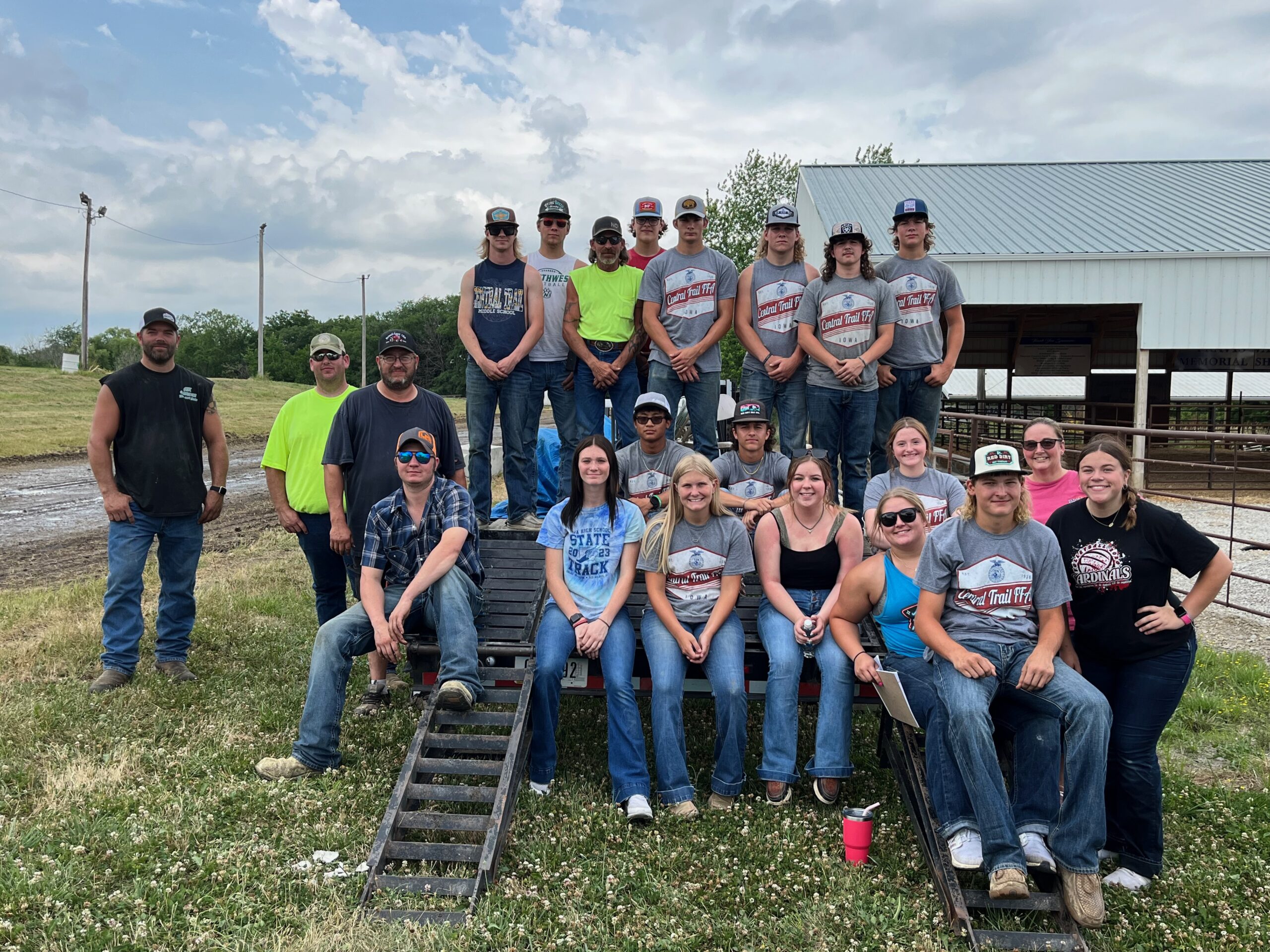 Story submitted by Adeline Stone '25 and Jamie Oesch '24
The Central Trail FFA prepared to host a great event, the Truck and Tractor Pull on Saturday, June 24th, but were struck with an unexpected turn of events quickly. With just two pulls into the show there were sled malfunctions that were unable to be repaired on-site, with no backup sled, which quickly ended the event. Although our event ended much quicker than expected, that did not stop the support of our crowd, our pullers, or our sled owner – JP Whittington.
The concession stand had amazing sales, the Northwest Missouri Tractor Pullers Association pullers donated their entry fees toward our chapter, and many spectators donated their gate fees back to us as well. With a great event planned ahead, the Central Trail FFA has already begun planning to host this event again next year.
We had an amazing group of sponsors that made this event possible: 8500 Pro Field A Pump – Brian's Farm Supply of Lineville, Randy's Short Stop of Lineville, 9000 Pro Field P Pump – Justin Shields of Lineville, Farmers Bank of Northern MO of Leon, Norris Law of Leon, Unlimited Open – Porter Farms of Mercer, J Bar G Trucking of Mercer, Open Farm Truck – Central Trail FFA,10500 Super Field- Hewlett's Quality Lawn Care of Leon, Rueter's of Osceola, Main Street Brickhouse of Leon, Gilbert's True Value of Leon, 8500 Pro Farm – BTC Bank of Leon, Leon Recycling & Auto Parts of Leon, North Lumber & Home Center of Leon, AK Garage of Leon, 6200 Pro Street 4×4 Pickup- Christensen Mowing Service of Leon, Leon Automotive of Leon, Kelso Insurance of Leroy, Hardware Hank of Leon, and JAM Transportation of Lineville.
The hands-on supporters of this event are what made this a success for our chapter: Decatur County Land Improvement – Mike Craig, Leon Rodeo Committee, Decatur County Fairboard, Alliant Energy – James Cornell and Corey Gwinn, Leon Volunteer Fire Department – Doug Moffett, Ideal Ready Mix – Jeff Hash, Leon MFA – Doug Jeanes, Hewlett Lawn Care, Alan Jensen, Rick Benda, Cody Richarson, Matt McElfish, Alayna Link, Alex Foltz, Jake Stone, Jason Buckingham, Kim Buckingham, Katie Jensen, FFA Members & Parents – Angie Jensen, Bill Hill, Dustin & Ashley Dittmer, Lariss Harper, Mark Saylor, Bridgett Cox, Angie Kernen, Jennifer Young, Wade & Mindy Hamilton, Amber Richards, and Kala Leeper.
Again, a huge thank you to our community for allowing this event to still be a success, although it did not seem like it at the time. The Central Trail FFA apologizes for the inconvenience but is very appreciative of the support and generosity received.
---