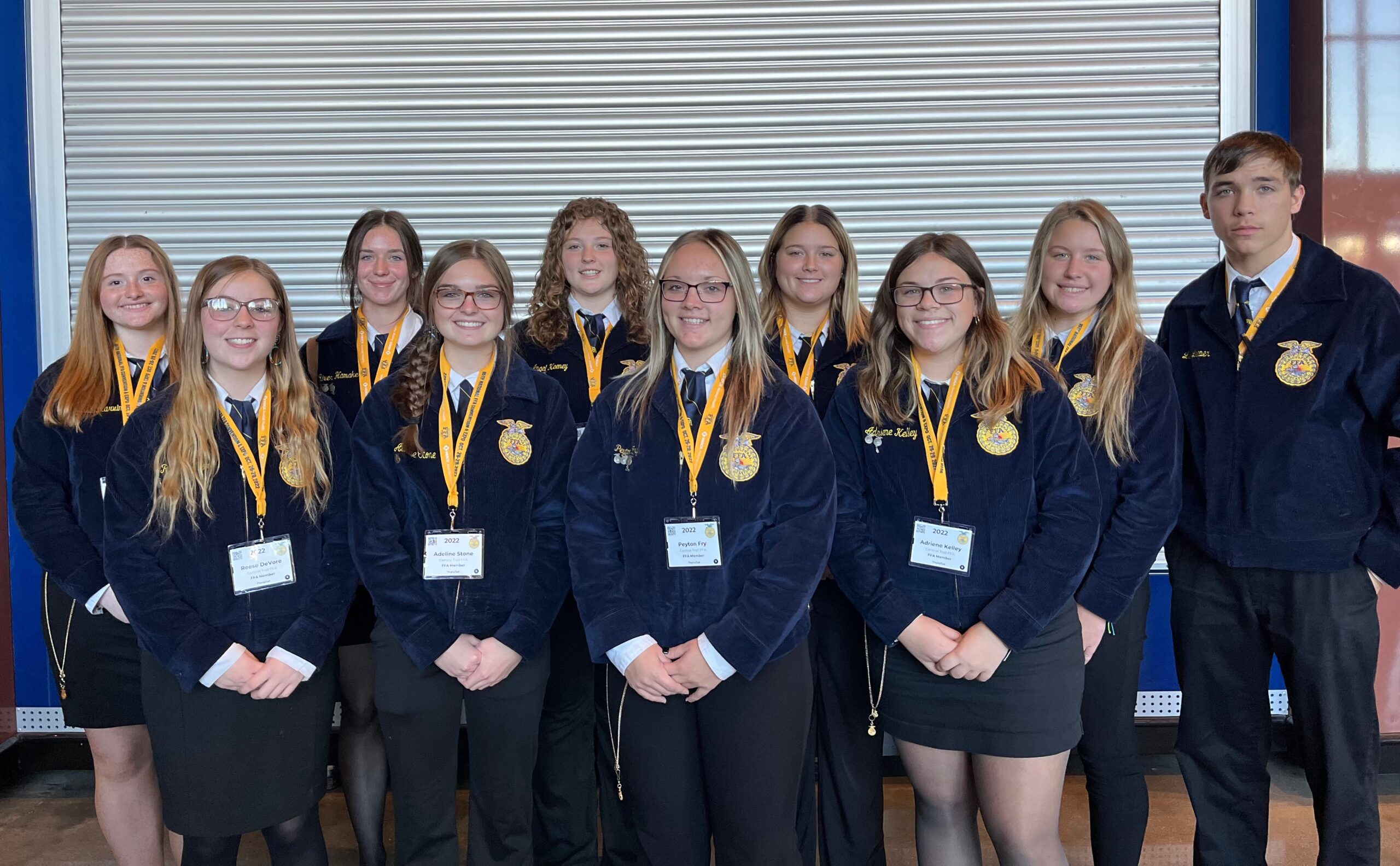 Story Submitted by Lexi Jensen '23
For the Future for All was the theme for the 95th annual National FFA Convention, held from October 25th to the 29th, 2022, in Indianapolis, Indiana. This year 69,285 FFA members, advisors, parents, and educators from all 50 states, Puerto Rico, and the Virgin Islands traveled to Indiana for the convention. These members strived to show their belief in the National FFA Organization throughout the week. Ten members from the Central Trail FFA Chapter attended the National FFA Convention. This group comprised Ari Nopoulos, River Hamker, Lexi Jensen, Reese DeVore, Adriene Kelley, Peyton Fry, Lane Leaper, Addeline Stone, Angel Keeney, and Lyndin Marvin.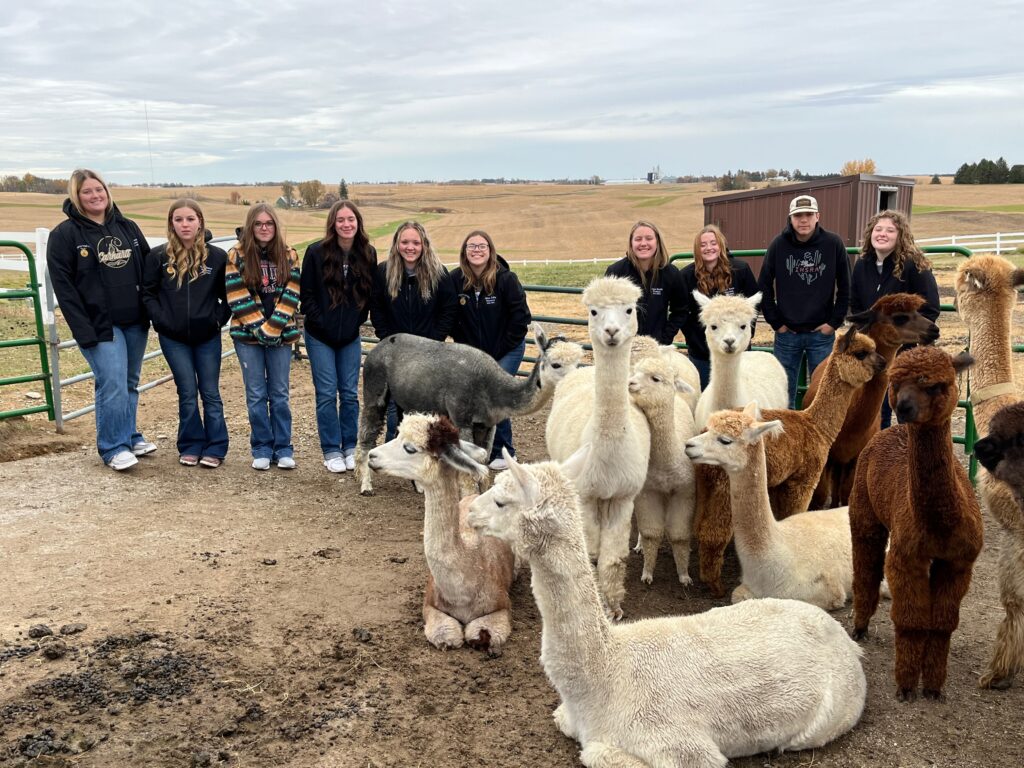 Starting Tuesday morning, October 25th, the ten FFA members and their advisor Ms. Sondag boarded the charter bus with five other schools at Lakeside Hotel and Casino in Osceola, Iowa. We traveled to New Leader Manufacturing in Cedar Rapids, IA, to tour the factory. There FFA members learned about how the fertilizer spreaders are made. The company has 165 employees and is eighty years old. New Leader is family owned. They have a 160×200 indoor facility to test equipment. Some of the equipment is 70 years old. The majority of the sand and salt spreaders made at New Leader go to NYC. They use fiber optic and laser cutting to cut specific and detailed pieces of metal. Overall, this tour was an excellent experience for the FFA members and helped us explore a career in agriculture. Later that afternoon, FFA members stopped at a family-owned Alpaca farm. Here we learned about how alpacas are raised and cared for and the amount of money that alpacas can be worth. Alpaca fleece is $12 an oz. They are very susceptible to strongyles and meninga worms. There is no temperament difference between males and females. Their meat costs $10 per pound for ground meat, and streaks are $15 per pound. Alpacas are spontaneous breeders; their Crya (offspring) come in April, and a 6-month-old Crya costs $1500. You can have 28 alpacas on 3.5 acres, which still requires mowing. Alpacas must be raised in a herd. We learned that alpacas are very tedious to raise and take a lot of time and effort.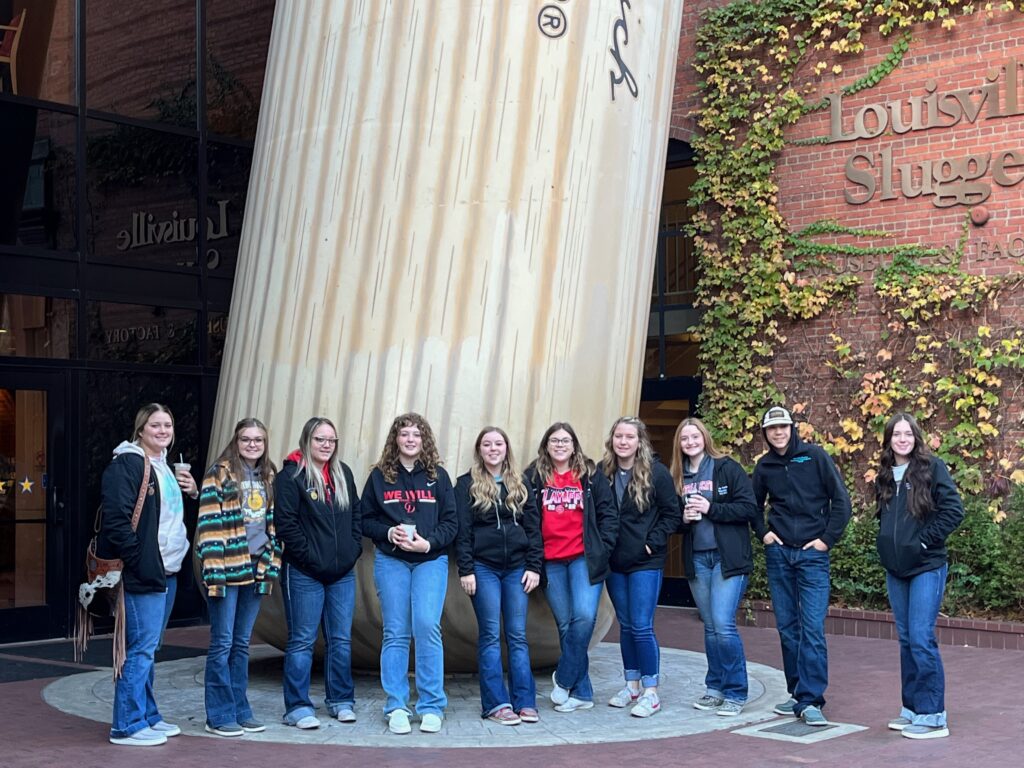 The following morning, FFA members traveled to Indianapolis, Indiana, to tour Fair Oaks Farms. Fair Oaks Farm is a dairy and pig farm that owns 36,000 acres of land and 20% for wildlife. They locally produce and distribute 17 tons of feed per cow per year, and they have 36000 cows on their farm. At their south dairy, 2,800 cows are milked per day. The cattle are milked three times a day and have 72 cow rotary. The rotary takes 8.5 minutes to go around completely and 5 minutes to milk. They have over 700 employees at Fair Oaks Farm.
After the exciting tours, the kids headed to the 95th National FFA Convention in Indianapolis, Indiana. We heard the keynote speaker, Tamika Catchings, at the opening session. Tamika is a four-time olympian with a hearing disorder that she was bullied for as a kid. She said many things that stuck out to the FFA members. The things she said stuck with the members the most were, "How can anyone believe in you if you don't believe in yourself," "Today is going to be a good day," and she taught us how to be B.O.L.D. Believe in your dreams. Open to change. Love and then lead. Dare to be remarkable. Tamika reminded us that you can do anything you want, but you must believe in yourself first. After the first session, members attended the career show and learned about the various college options. Later that night, we went to Rascal's, where we had fun with go-carts, mini-bowling, and many arcade games.
The next day FFA members got to experience some more tours. FFA members traveled to Louisville Slugger Museum and Factory and Churchill Downs. At both places, we learned about the rich history of each of them.
Louisville Slugger, we learned about how the famous baseball bats are made. Each tree for the bats is hand selected, cut and graded, cut to 40", split into wedges along natural grain, made into 37" cylinders, waxed, dried, and graded. We learned how each type of tree affects a bat's performance. Ashwood is flexible. Maple wood is hard and dense. And birch wood is flexible and durable. The more you hit, the harder it gets. They can make around 40-60 bats from 1 tree. We learned that they make close to two million bats each year. Learning about the history and process of the Louisville Slugger bats was very interesting.
Churchill Downs, we learned about the facility's history, the criteria each horse and rider has to meet to race, and the famous Kentucky Derby. In 1875 the Kentucky Derby started. The winning horse owner gets 1.68 million dollars. The winning jockey gets 10% or $168,000. The average jockey is around 5'3 and weighs 110-115 pounds. There are 80,000-100,000 jobs in the racehorse industry. Seating in the stands at Churchill Downs on Derby day can cost anywhere from $650-$15,000 per person. Many people call this race the "Greatest 2 minutes of Sports." There were so many interesting things that we learned about Churchill Downs. FFA members really enjoyed learning about all the things that they did. After a fun day touring, FFA members enjoyed a nice dinner at Texas Roadhouse to end the day.
Last but not least, the FFA members headed to the American Degree Ceremony on Saturday, October 29th. At the ceremony, we watched members of the Central Trail, Murray, and Osceola Big Chief FFA chapters receive their American Degrees. Morgan Nordyke and Ethan Bundt from our own chapter had the privilege of receiving their American Degrees. After they were recognized, we congratulated them and then loaded the bus to head home, where we arrived at about 8 p.m. Overall, this was an educational trip that helped to change the lives of ten FFA members in the Central Trail FFA Chapter. The FFA members plan to bring back what we learned to the rest of the chapter to grow the chapter even more. This was an outstanding experience made possible by the tremendous support of our community, faculty and staff at the school, and our administration.
---