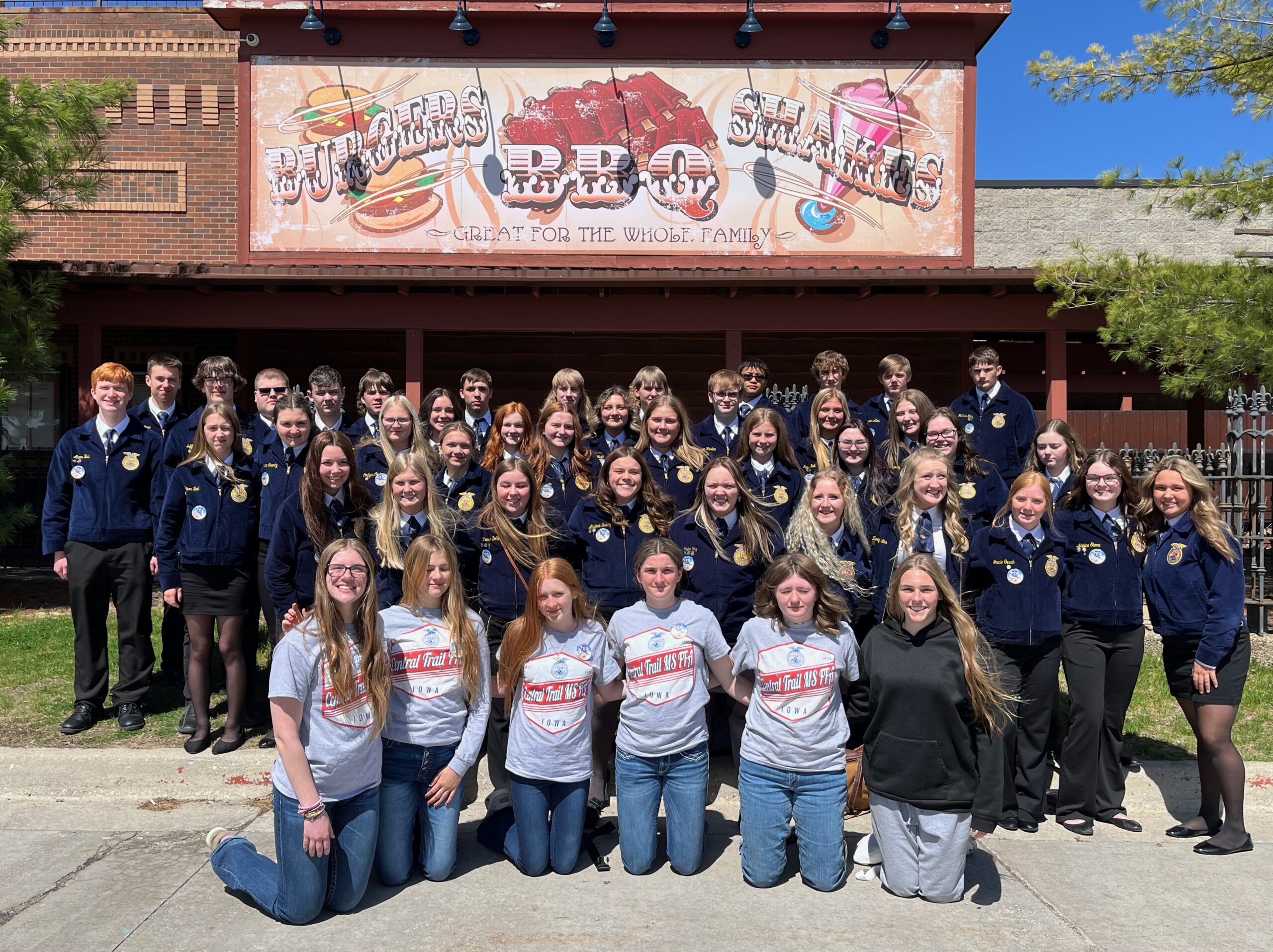 Story Submitted by Adeline Stone '25 and Jamie Oesch '24
The Central Trail FFA had forty-five high school members attend the state convention, along with six middle school members. It was held at Iowa State University in Ames to compete in contests, develop leadership skills, celebrate personal achievements, and connect with others. The members that came had to earn their spot by having excellent attendance and meeting the financial goals set by our chapter! We were honored to have the following chaperones: Mary Frisbie, Cassy Allen, Ryan Richardson, Tanner Bettin, Mark Saylor, Leslie Benda, and Jill Sage; also a special thank you to our bus driver Rick Rhum. We appreciate everything you do for our chapter!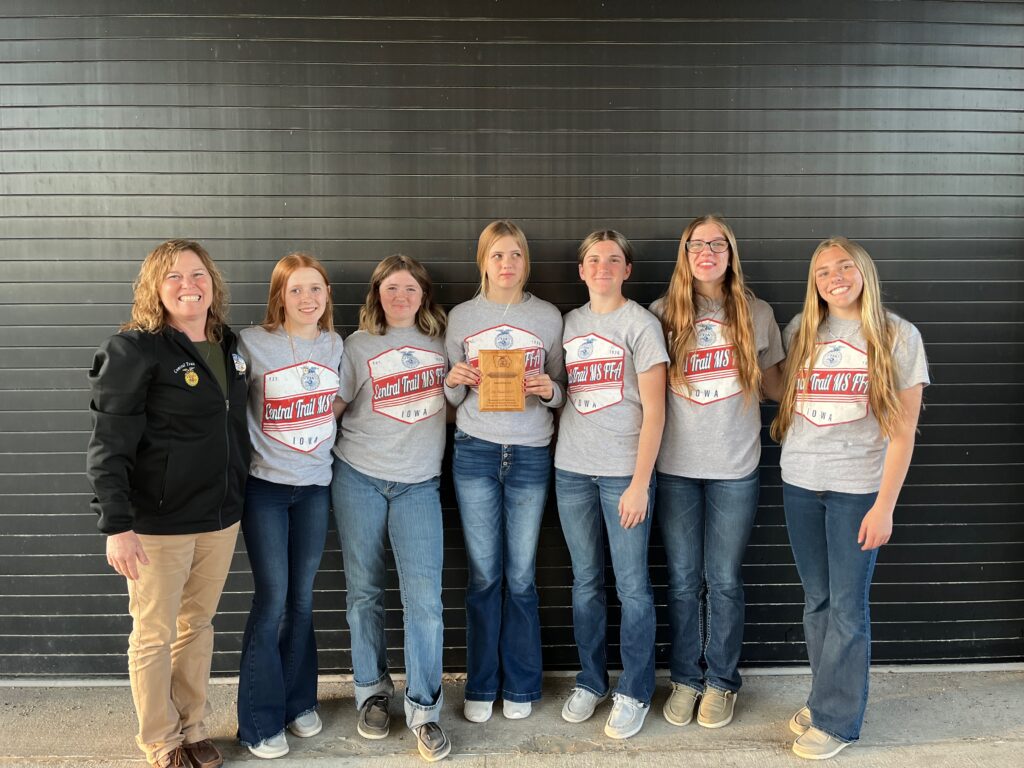 Our convention began with the Ag Impact Team, Experience the Action Team, Ag Sales, and FFA Creed Speaking. Our Ag Impact Team comprises Soiyer Smith, Lola Helton, Riley Benda, Aubri Perkins, Kamryn Jones, and Taylor Leahy. They placed third overall.
John Newman, Morgan Buckingham, Cortlynn Cook, Mildred Waugh, and Megan Young are on the Experience the Action Team.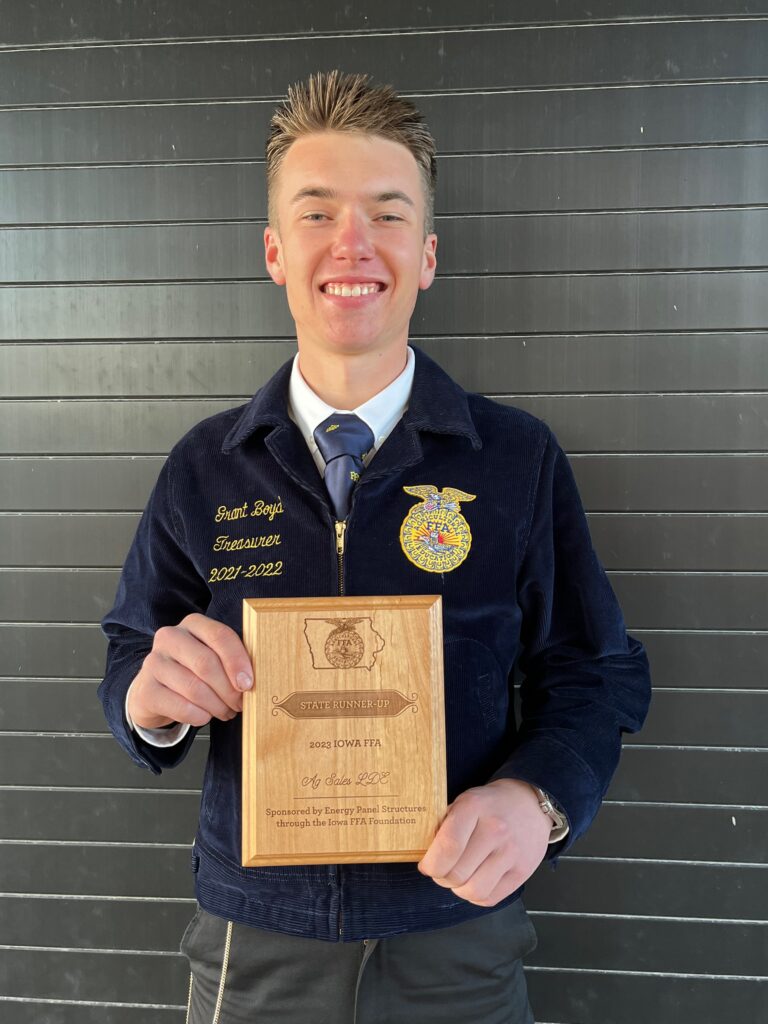 Grant Boyd placed second with a gold rating in Ag Sales.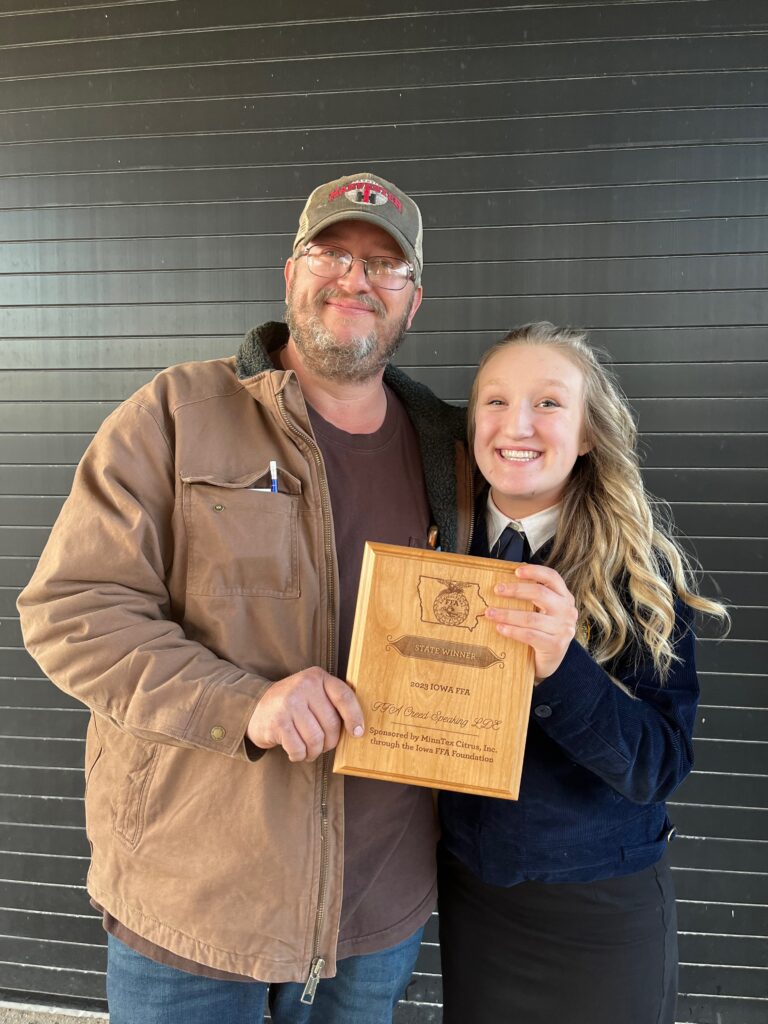 Our National Qualifier, Zoey Hamilton received a gold rating and placed first in Creed Speaking. She is competing at The National FFA Convention in Indianapolis, IN.
Our two delegates that represented our chapter very well were Mason Allen and Cord Hamilton, who helped vote for the 2023-2024 State FFA Officer Team! Throughout the day you could find Central Trail FFA members attending leadership workshops, exploring the career show, competing in the Scavenger Hunt, and watching Leadership Development Events! In the First General Session, Rosa Sondag walked across the stage to get recognized for being a Golden Owl Recipient. The evening ended with a Keynote Speaker by Chris Norton. He shared his story about the accident that happened 12 years ago, paralyzing him from the neck down, and how he overcame it. The FFA BBQ and Fun Night followed afterward!
Tuesday morning started with Cortlynn Cook and Megan Young competing in the Greenhand quiz. We greatly appreciate Riley Bell for putting together a tour at Ag Leader Technology. The company was started by an engineer who wanted farmers' lives to be better. That dream led him to invent the first commercially successful, on-the-go yield monitor. Throughout the day we were recognized several times, Grant Boyd and River Hamaker received the National Chapter Award for the work they completed on the National Chapter Application.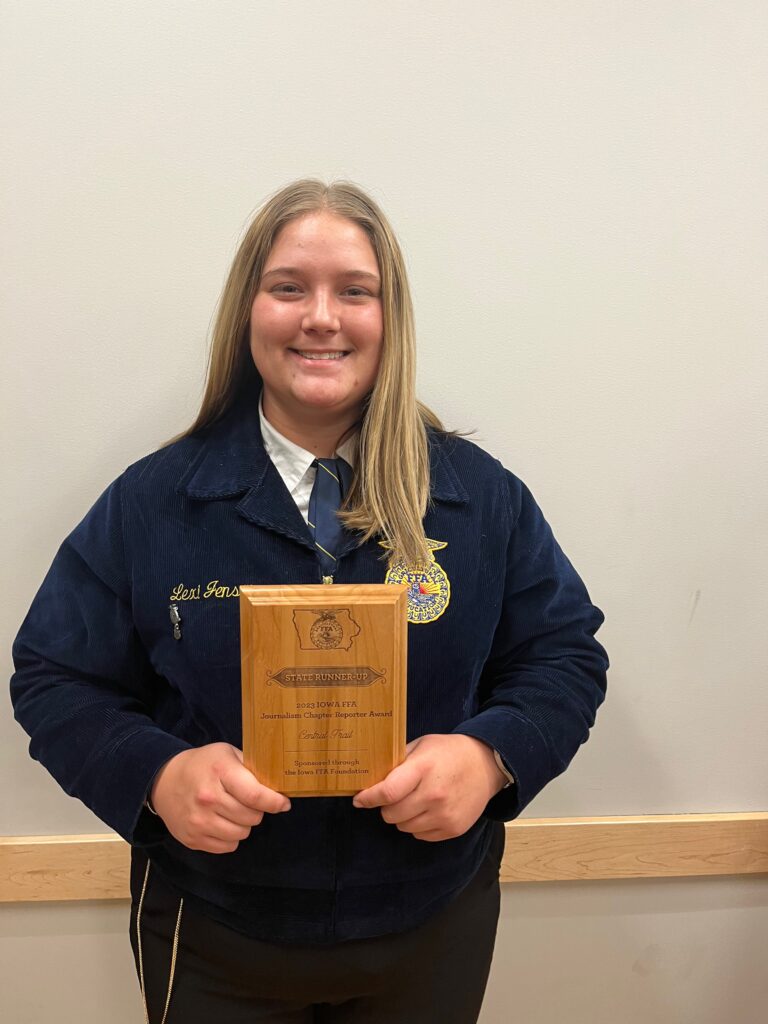 Lexi Jensen and Hadley Bell, Central Trail FFA Reporters, were honored to receive the WHO Public Relations Award and the Second Runner Up for the Iowa Farmer Today Agriculture Journalism Award.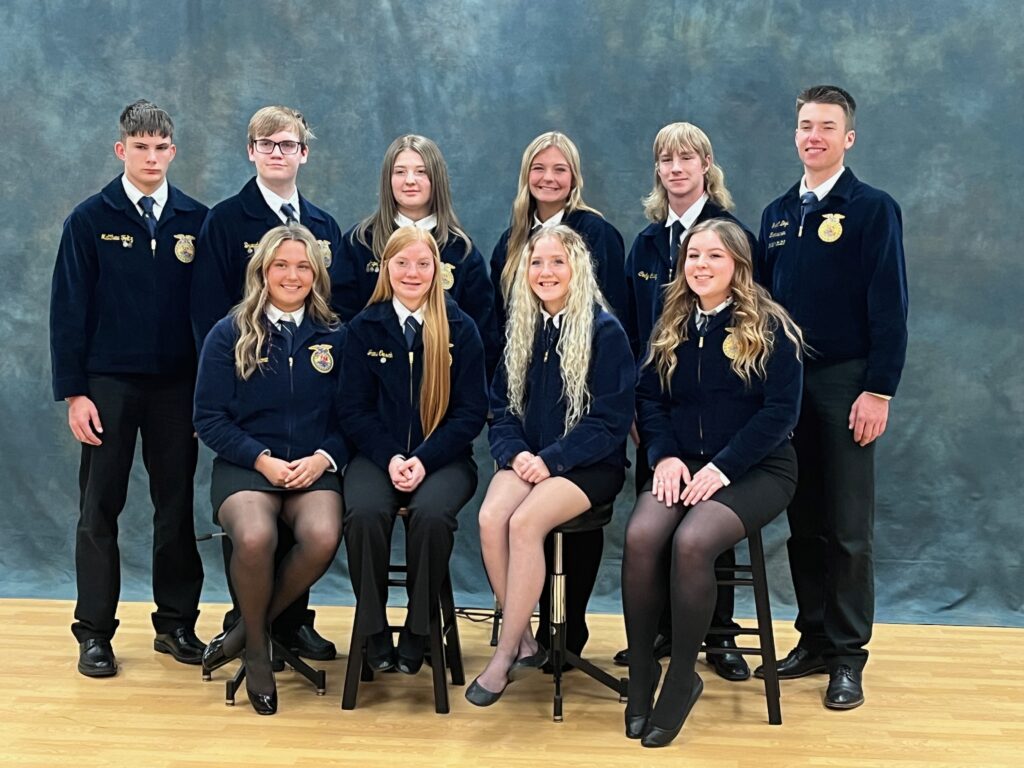 During the last session, Hadley Bell, Grant Boyd, Nattalie Coffey, Cody Craig, Reese DeVore, Matthew Foltz, Brayden Frisbie, Bly Hunt, Angel Keeney, Jamie Oesch, and Champ Walker were awarded their Iowa FFA Degrees!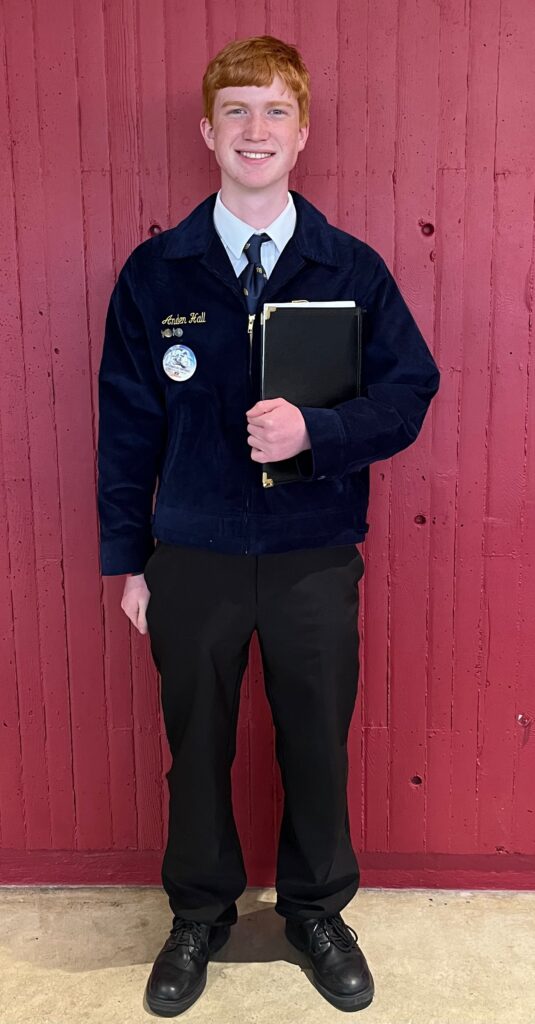 Anden Hall did a great job performing as part of the FFA Chorus. A huge congratulations is given out to all of those who received awards, competed, and represented the Central Trail FFA Chapter.
---