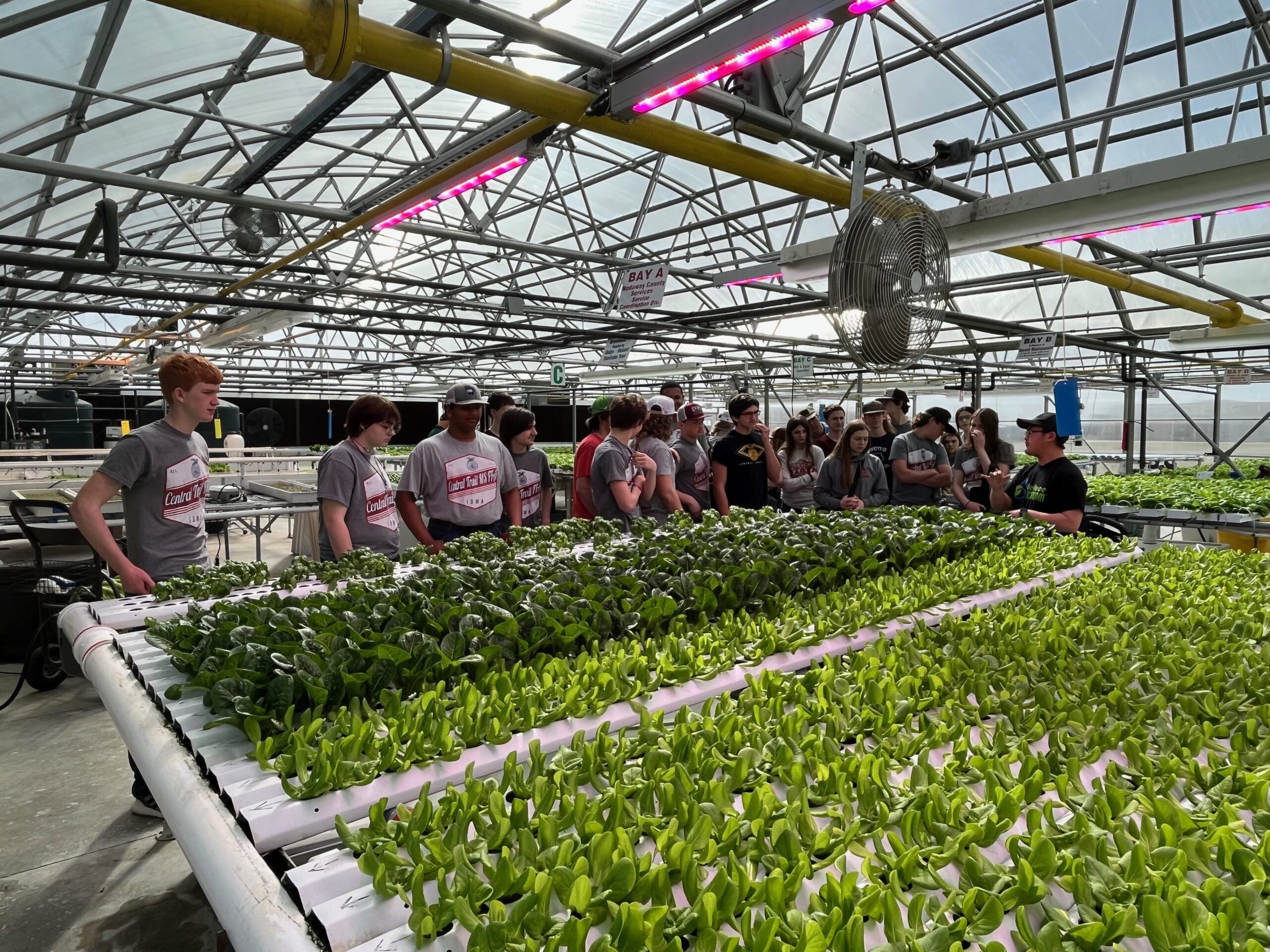 Story Submitted by the Central Decatur Plant Science Students
Today, March 31, the Central Decatur Plant Science class traveled to Lettuce Dreams in Maryville, MO for a tour. At Lettuce Dreams, our tour guide Alex provided information about the Hydroponics Facility and about providing work experience to those within the area with disabilities. The facility was started by two friends that had children with disabilities and wanted to make sure everyone had the same chance at a career. This led to the establishment of a non-profit organization that works with local organizations to help those with disabilities obtain careers. They have had a 100% placement rate, placing 16 individuals in full-time careers since 2016.
Alex, the greenhouse manager, shared an informational presentation about the facility in order to educate us about the facility.  Lettuce Dreams has two 32×96 greenhouses for a total square footage of 12,600.  There were seven hydroponics tables that held approximately 2000 plants on each table.  They are able to harvest 600-800 pounds of lettuce per week.  This is equivalent to 113,000 heads of lettuce or 40,000 lbs.  Residents in surrounding counties with disabilities are able to gain employment experience at Lettuce Dreams, preparing them for placement in surrounding businesses.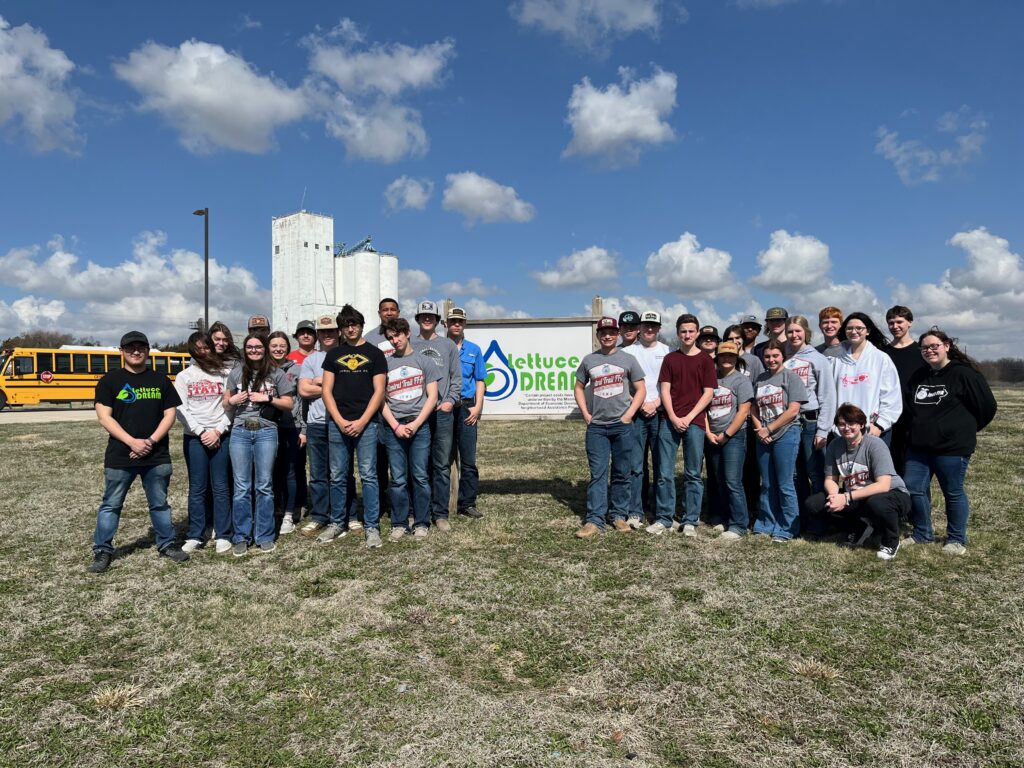 As part of our tour we gained knowledge about Hydroponics systems, which we have been studying as part of Plant Science. The lettuce is planted in Oasis cubes, which easily take in water and you don't have to stabilize pH when using them. Lettuce Dreams has a reverse osmosis system that recycles the water into the plants, circulating fresh water and fertilizer. They also utilize red and blue LED lights to assist in growth of plants, with the red LED lights encouraging budding and flowering and the blue LED lights encourage the plants to grow. They also discussed how they control diseases and parasites in lettuce including downy mildew and aphids. The downy mildew was controlled with peroxide and aphids were controlled with pyrethrins. They also are required to water test for other diseases at least once a year, which is why pets are not allowed in the facility in order to combat e-coli. Every two weeks they complete a deep cleaning of the facility. They distribute lettuce throughout the community and to surrounding states with Liberty Fruit being their biggest distributor. Lettuce Dreams is looking forward to expansion by building a warehouse and eight more greenhouses, but this plan has not been enacted due to cost.
Central Decatur Plant Science students were appreciative of this opportunity as they were able to gain information to improve their hydroponics systems. They would like to thank Mr. Johnson and the CD Faculty for allowing them to enjoy this experience. They would also like to thank Mrs. Ashley Dittmer for serving as a chaperone, and Mr. Manual Atwood for transporting them to the tour and giving them a tour of Northwest Missouri State University!
---