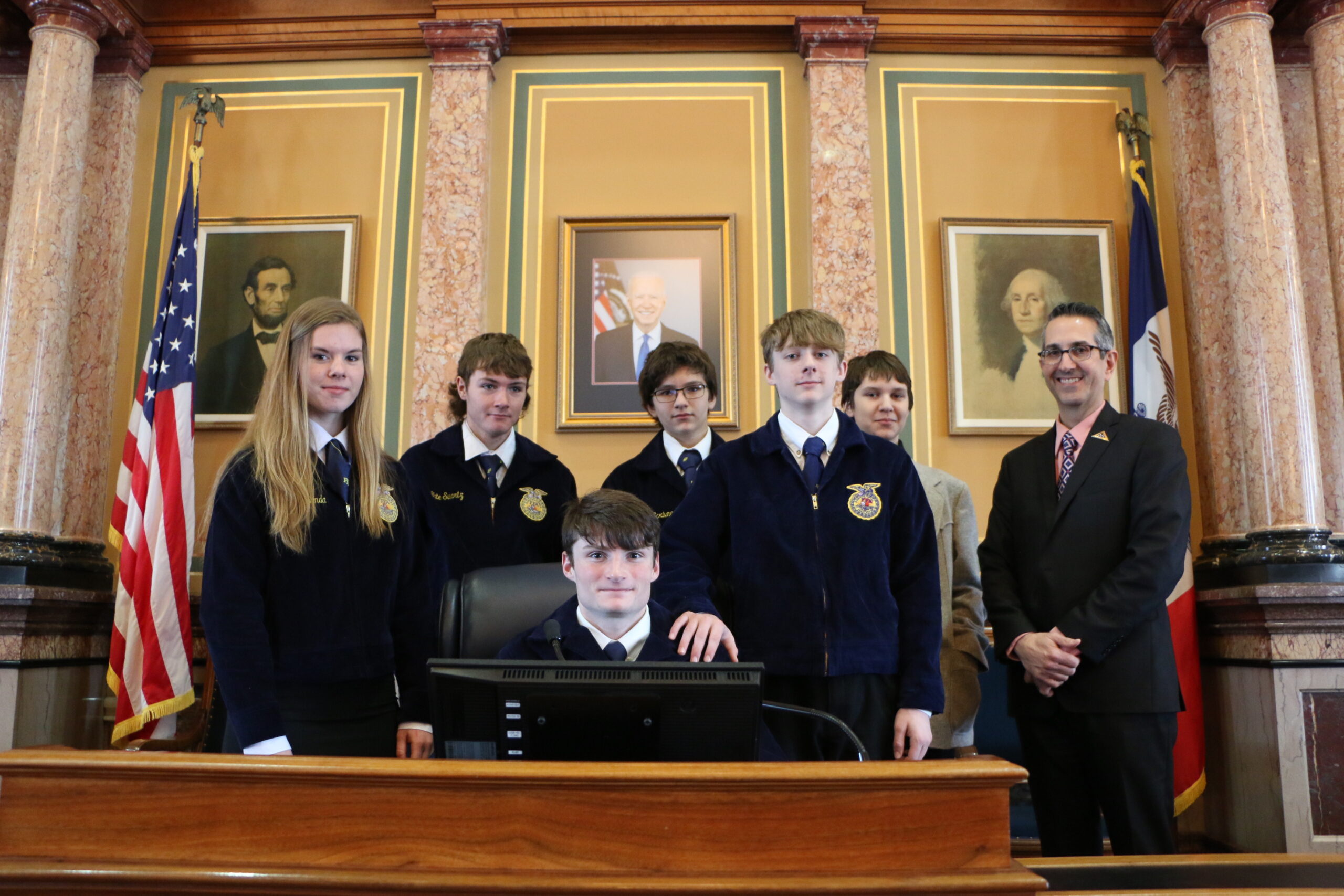 Left to right: Adrianna Benda, Tate Swartz, Carson Scrivner, Nolan Pierson, Blake Foote, seated Gunnar Smith, and Representative Joel Fry
FFA Members and Agriculture Students attended the Legislative Symposium at Embassy Suites and the Iowa State Capitol in Des Moines, IA on February 1. These students were able listen to opening presentations from Mike Naig, Iowa Secretary of Agriculture, Brent Johnson, Iowa Farm Bureau Federation President, and Elizabeth Burns-Thompson, Navigator CO2. These presentations were followed a welcome from Governor Kim Reynolds, who also signed the FFA Week Proclamation for the State of Iowa.
Following this presentation the students traveled to the Iowa State Capitol where they had the opportunity to meet with Representative Joel Fry, who took them on a quick tour of the House of Representatives and shared information about his duties as a State Representative. Following their visit with Representative Fry, they were honored to join the Ms. Amy Ewing and the Murray FFA Chapter for a visit with Senator Amy Sinclair, Senator Driscoll, Senator Dunwell, and Senator Rozenboom.
Students were able to have candid conversations about the impact of the income tax and capital gains tax on farmers and how some changes could impact future land sales and purchases, the need for providing agriculture education to students throughout their school career in order to support the importance of agriculture in the State of Iowa, the impact of chemical runoff on Iowa water quality, and value of Iowa farmland, commodities and the cost of inputs.
Students had the chance to learn about the legislative process and gain an understanding of how their voices could be heard in order to impact their livelihood as an agriculturist.A special thanks to all of those that donated to the Cardinal Closet at the Central Decatur Community School. Your generosity assisted our students in looking their best for this visit!
---