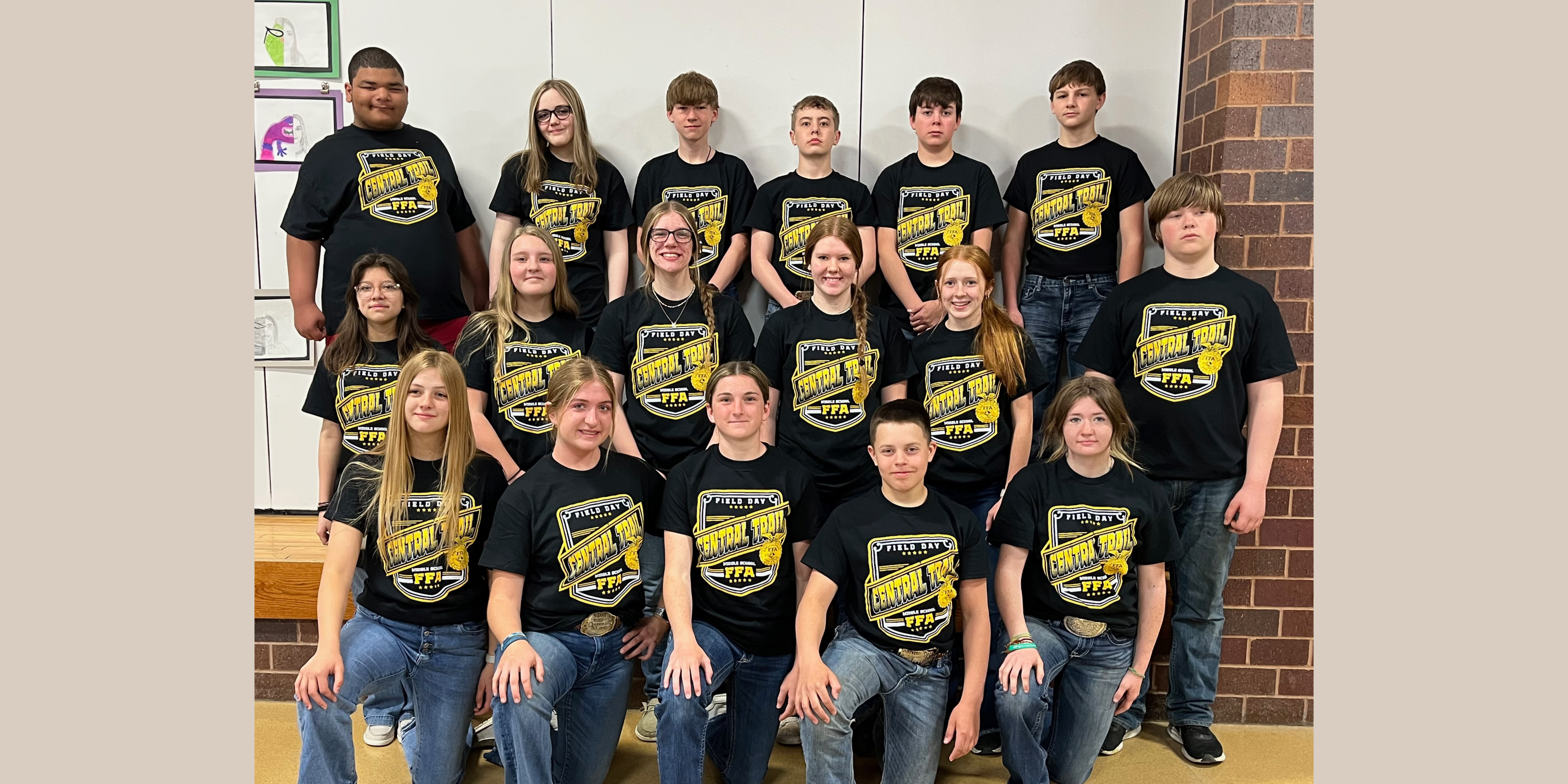 Submitted by Central Trail Middle School FFA Members
On Wednesday, April 26 members of the Central Trail Middle School FFA traveled throughout Decatur County to enhance their knowledge of agriculture. Their day began with the presentation of a t-shirt to every member and chaperone that attended and then they boarded the bus to head out on their first tour.
The first tour stop was Lamoni Livestock Auction, led by sale barn owner Jason Allen. It was a great experience to learn about how things worked behind the scenes at a livestock auction. Mr. Allen led us through a tour using a cow's perspective to show us their experience of how it operates through each step. Featuring some steps including unloading, penning, gathering weights, auctioneering, penning back, doctoring, and then finally loading. This experience will make us more comfortable if we decide to sell or if we choose a career in many areas that he discussed.
Following a great experience at Lamoni Livestock Auction we departed for Grand River Cattle Company. We began our tour with Ms. Kala Leeper who showed us the inner workings of a feedlot office. She showed us the personalized tagging system and explained how it works. We then went with Travis Van Laar on a tour of the facility to learn how everything worked throughout the feedlot. Some of our experiences were taste testing cattle feed, riding in a livestock trailer, petting a horse, seeing how a hydraulic chute work, taking our weights on the scale, guessing the weight of the cattle, seeing how cattle are sorted and penned, and learning the different jobs that can be held on the feedlot. We learned that a job like this requires hard work and dedication with the ability to learn many different skills.
From there we took a quick detour to Grand River, IA where he enjoyed a delicious meal at the Silver Spur, which was paid for through the hard work of our Middle School FFA chapter members. A huge thanks to Kevin Wookey, Doris Wookey and Grandma Linda Hunt for welcoming us and serving a great meal at the Silver Spur.
The final stop for the Middle School FFA Field Day was AgriVision Equipment in our hometown of Leon, IA. Malcolm Mercer, Store Manager, gave us a very informative tour throughout the facility. We were able to witness service technicians in action as they repaired a combine and other equipment. From there we traveled through the Parts Inventory Warehouse where we learned there are over $1 million of parts in inventory. Mr. Mercer shared with us new and improved technology offered by John Deere and gave us a chance to watch Derek Head, Mobile Technician, auto steer a sprayer into the AgriVision parking lot. We were given the opportunity to see the interior of a 2023 John Deere Sprayer, which allowed us to get a farmer's perspective. Some highlights of the sprayer were the heated and ventilated massage seat, a buddy seat, a refrigerator, a touch screen radio, storage compartments, and great mirrors.
Joining us on the Middle School FFA Field Day were Mrs. Jill Sage and Mrs. Angie Bettin, who we appreciated the guidance from. We would also like to thank Mr. Rick Rhum who transported us to our destinations. We would like to send out a final thank you to the Central Decatur Administration, Faculty, and Staff for allowing us this opportunity.
---