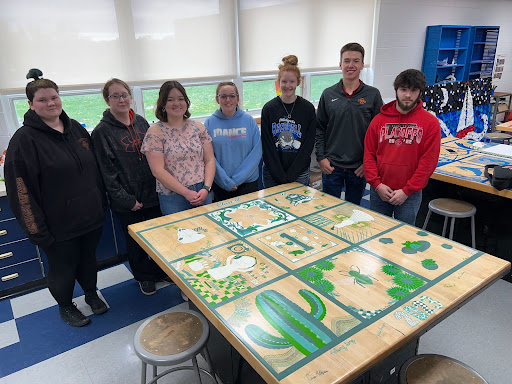 Working as a team to create this beautiful piece of art are pictured from left to right,
Aspen Eslick, Bethany Long, Julisa Suazo, Phoebe Herring, Cinzie McElfish, Grant Boyd and Jeremiah Cowling.  Not pictured: Octavia Snethen and Reese DeVore, all from the Class of 2023.
Each year since 2016, Mrs. Pedersen has had her senior art students in her Advanced Painting class do a project called, "Leave Your Legacy" where they design and paint on an art room table. The subject matter is free choice and just has to represent the student in some way. Zentangle designs must also be incorporated in their drawing. Students get to design a square. This artwork represents several design elements and principles like line, shape, color, texture, rhythm, movement, and contrast. They started by planning their drawing out on paper. Then they used acrylic paint markers to color their detailed designs. What a beautiful green and white table. Way to go Seniors! What a positive way to leave a creative "mark" on our school. Best wishes to you all!
---